Reasons to think twice before going under the knife
With spinal fusion, a surgeon places bone grafts that "weld" two or more vertebrae together to prevent motion and stop pain. The procedure is often used to treat back pain from spinal stenosis, which occurs when the soft tissues between the vertebrae flatten out, creating pressure on the spinal cord or nerves that go to the back, arms, neck, shoulders, and legs. There is little consensus on how best to relieve pain from stenosis, so doctors tend to develop their own preferences, says Richard Deyo, M.D., professor of medicine at Oregon Health and Science University.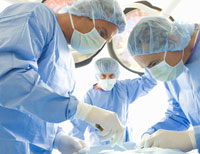 Their top treatment choice increasingly seems to be fusion. Deyo recently studied the records of more than 30,000 Medicare patients who underwent surgery for stenosis of the lower back and found that complex fusion procedures (in which surgeons place bone grafts between multiple vertebrae) had increased an astounding 1,400 percent between 2002 and 2007.
The risks are significant: Those who underwent complex fusion were nearly three times more likely to suffer life-threatening complications than those who underwent less invasive surgery. Previous studies have also found that most fusion patients experience no more relief from their chronic back pain than those who had physical and behavioral therapy. "There is even some evidence that [complex fusion surgery] is worse than other surgeries," says Floyd J. Fowler Jr., Ph.D., senior scientific advisor for the Foundation for Informed Medical Decision Making (FIMDM). "The vertebrae right above and below the fusion have to do a lot more bending, and it puts stress on your back above and below."
Alternatives to Surgery
Before considering any type of back surgery, make sure you have exhausted more conservative measures, including physical therapy, cortisone injections, acupuncture, and medications. "Probably less than 5 percent of all back pain requires surgery," says Arnold Weil, M.D., clinical assistant professor of rehabilitation medicine at Emory University School of Medicine in Atlanta.
by Karen Cheney, AARP The Magazine, July/August 2011