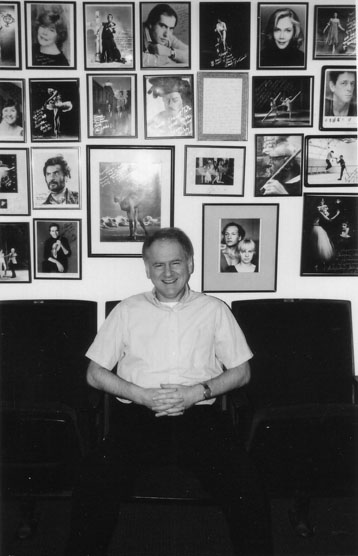 Headlined as the "Therapist as Shaman" by The New York Times, Shmuel Tatz, P.T., Ph.D., is a physical therapist providing relief for his clients when they have been unable to find it elsewhere. Located on the eighth floor of the prestigious Carnegie Hall in New York City, Tatz is the star of his own show, the Tatz Studio—a healing arts studio—attracting numerous celebrities, classical musicians and prominent business personalities throughout the world.
Practicing his unique system of Body Tuning and physical therapy, Tatz has treated such glitterati as renowned composer Andrew Lloyd Webber, singers Laurie Anderson and Lou Reed; actors F. Murray Abraham, Elizabeth Berkley, Elaine May, Marlo Thomas, and Kathleen Turner; Mets baseball star Mookie Wilson; world-class violinists Sir Yehudi Menuhin and Isaac Stern; prima ballerinas Nina Ananiashvili, Alexandra Danilova and Susan Jaffe; German soprano Christa Ludwig; Bach specialist Rosalyn Tureck, and TV personalities Peter Jennings and Jane Pauley.
Isaac Stern, who had seen Tatz for two decades, described him as a genius. "Not only is Shmuel Tatz an enormously gifted, highly trained and experienced physical therapist, he is also knowledgeable of the unique needs of artists who so often have problems that are caused by professional work over the years."
More impressive than his illustrious client list is the list of ailments he has been able to treat. His Web page lists almost 100 of them, everything from back and neck problems, sports and occupational injuries, stress- and tension-related problems, age-related stiffness, to neurological and orthopedic disorders. He also participates in the integrated treatment of depression, autoimmune disorders, diabetes, allergies, acne, insomnia, osteoporosis-the list goes on and on. Despite his extremely busy schedule, Tatz never makes himself too important or preoccupied to personally return phone calls and answer all questions with earnest sincerity.
*
At 58 years young, Tatz possesses an uncanny ability to assess the physical situation of his clients solely by scanning their bodies, and, as if by divine guidance, his hands intuitively know where to begin the healing process. Tatz is hesitant to attribute any of his healing abilities to anything other than hard work, dedication to his craft and years of experience. In today's glitzy new-age health world, his impeccable integrity, Yiddish sense of humor and earthy hands-on approach is refreshingly real and tangible. Nothing about his treatments are so ethereal that a layman cannot directly experience the impact.
"I tell people, that if you have come to my office to tell your story, you are in the wrong place. If you have already been to 10 places and you have told everybody your story and you are still here, so everything you are telling me I don't need to know. I need to know what you are not saying. Now, on the table!! With my hands I'll figure it out."
It is rare that any client leaves the Tatz Studio without a marked physical improvement. His goal is to reeducate detrimental patterns in the body and teach the client new ways of living and using muscles. Through treatment and education, Tatz restores health and balance and seeks to wean the client away from outside intervention.
Using a cross-modality of different techniques, Tatz combines the best of Western medicine with the more energetically based practices of the East.
"Every patient who comes to me is experiencing pain or discomfort at a different level," he explains, "and in order to assist each one appropriately, I must have a large repertoire to draw from. One modality is not enough to help every person who walks in the door."
Some of the modalities he utilizes are: Auriculo therapy, shortwave diathermy, magnetic therapy, sound therapy (ultrasound), light therapy (ML 830® Laser), electrical stimulation and manual therapy, as well as Postural Integration®, tai chi, lyengar yoga, reflex therapy and hydrotherapy.
For clients who come from out of town for Tatz's special Body Tuning® techniques, he recommends treatment twice a day for one week, once in the morning and then again in the early evening. Eighty-five percent of his clients suffering from acute pain are relieved after five days. He also treats clients who are hospitalized after an operation and need some fine-tuning. "Like a car after an accident, the body has parts replaced and then needs a tune-up. Especially if the patient is lying in a hospital bed for too long, the body becomes uncomfortable. The neck and back become disjointed and need some adjustments." Tatz suggests body tuning twice a week for these cases.
Tatz's therapy office resonates with European flavor and is staffed with mostly other Russian practioners. Marina, his receptionist, Russian as well, greets patients with, "Allo, how can I help you?" Tatz laughs about this. "You can take the boy out of Brooklyn, but you can't take Brooklyn out of the boy." He may have found success in America, but he is still a Litvak at heart. Fluent in six languages—Lithuanian, Russian, Yiddish, Hebrew, English and German—Tatz is proud to assume his Hebrew name and honored to have the opportunities that American freedom has availed him. "There is no question that America is the goldene medina," Tatz adds. "Americans are very lucky and don't even realize it. Their biggest problem was the War of Independence and life has been a honeymoon since then. In Europe, people today are still fighting about existence."
Fiercely independent, Tatz realizes he needs to be at the top of his field in order to succeed. He is hesitant to make referrals unless he is absolutely certain that the referring physician is top-notch and trustworthy. He always encourages his clients to thoroughly check out doctors who are recommended by other doctors as "friends." The idea of kickbacks infuriates him, so for the most part he operates as a sole proprietor. "Americans are naive. If you go to see a doctor with a big degree from Oxford or Cambridge and he has a British accent, what does this mean? You need to ask questions."
*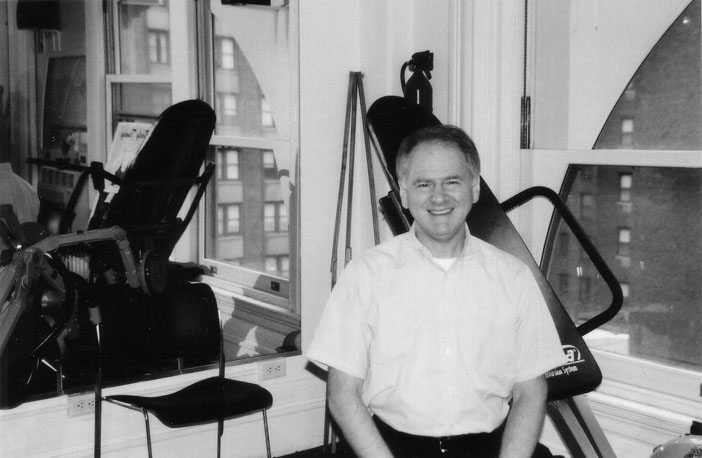 Born in Lithuania in 1946 to two Jewish Holocaust survivors, a secular father and Zionist mother, Tatz knew from the age of 5 that his destiny was to live in Israel. Lithuania, at that time, was not a friendly place for a Jewish family and Tatz reminisces that he was reminded in the streets a few times a day that he was a Jew. "My father was a partisan and my mother escaped from the ghetto and they met in the woods in 1944. They each had had previous spouses and children when they met, but all known family members had been killed."
Life behind the Iron Curtain was extremely limited and even the mention of immigration before the early '70s was a violation resulting in a sentence to Siberia. So when immigration did finally start to open up, Tatz applied and had to wait two years before receiving his visa. With much encouragement from his family, Tatz immigrated to Israel in 1973 to build a new life, with his family planning to follow after him. "My mother was a very strong Zionist—she was Shomer Hatzair—and we always had talks about Israel in my home." Tatz's mother was the only one to actually follow him to Eretz Yisroel, as his father passed away in Lithuania and his brother continues to live there till this day.
Tatz spent the majority of his time as a young man in Lithuania learning how to work with his hands as a healer. He remembers conversing with his father that the only thing he could take with him to Israel were his hands, so this is where he should invest his time and money. After training as a dancer, Tatz transferred his interests and studied for four years to become a medical exercise physician. He later moved to Moscow to study medical massage and in the early '70s, he worked on the bodies of Soviet Olympic athletes.
"The Eastern European techniques at the time I was in college were much more advanced than their counterpart schools in the West." Tatz continues, "However, there is one thing that cannot be taught in these schools and that is how to touch. Impossible." Tatz contends that like learning piano, or any other instrument, touch can only be taught one on one. So Tatz found himself a good shaygetz hands-on healer and followed him arouna Russia to learn the trade.
Upon moving to Israel in 1973, Tatz received a full scholarship from the Sochnut to study traditional physical therapy at Wingate Institute in Tel Aviv. Tatz recounts these times as some of the happiest in his life.
"Many of my old teachers in Israel were immigrants from Germany, trainea in the Eastern European traditions of touch therapy, while the young teachers in Israel were from America and brought the hi-tech therapies like ultrasound. So this was the combination of the highest standards of training available."
He also had the opportunity to study acupuncture, tai chi and yoga as well as Feldenkrais technique with the native originator of the modality, Moshe Feldenkrais. His first job out of Wingate was working with critically injured people in Jerusalem at Hadassah Hospital, and later he moved on to become the physical therapist for the Israeli soccer team, Beitar Yerushalayim.
Tatz smiles. "Every Jewish mother wants her son to become a doctor or a lawyer. I just didn't have the talent for these professions. So, my cousin recommended that maybe I would enjoy physical therapy, since it involves a lot of ergonomics and movement. And since it's a little bit like medicine, my mother would be happy, too. So I have been practicing this profession for almost 35 years and I still enjoy it and learn every day."
Tatz's superlative talents transverse many worlds. While concurrently working with the Israeli soccer team, Tatz opened up a private practice in Mea Shearimthe ultra-Orthodox section of Jerusalem. "I still remember my address, Shifteh Yisroel, shloshim vashmona," he smirks.
"My office there was a three-ring circus. At the same time I was a Shabbos goy running with the soccer players on Shabbos, I was treating yeshiva bochers sitting and learning all day. The soccer players would come to my office in their shorts and the bocherim would come with their Gemorrahs. I will never forget this in my life. I had the honor to treat the Gerer Rebbe, the Slonim Rebbe, and many other talmidim chachamim. These people are always leaning over their books, learning and thinking, and this creates tremendous tension in the neck and back."
Because Tatz spoke fluent Yiddish, all the most prominent rabbis and rebbetzins came for treatment (in Orthodox tradition, a woman cannot touch a man, but a man can touch a woman as her medical practitioner) and his popularity blossomed amongst the am kashei oref-the nation of stiff-necked people. As a result, numerous articles were written in Israeli newspapers about Tatz's healing services amongst Israel's most religious.
Tatz was also a tremendous advocate of physical activity in the yeshivas. He introduced baseball, soccer and basketball to many of the boys. "I saw in the color of the boys' faces that they had zero physical activity, that their musculoskeletal system was in terrible condition, and that this brings other health problems." Tatz admits that he received his Jewish education working in this ultra-Orthodox community. "On the holidays, the rabbis would give me wine, kosher brachas and invitations to their homes."
An attractive young classical pianist, Golda Vainberg, also a fellow Litvak studying at the Rubin Academy of Music in Tel Aviv, once came to his office in Jerusalem. She had been suffering from tendinitis and was unable to play. After only one month of treatment, she was back to her piano and shortly afterward they married. Lucky for Tatz, Vainberg referred to him many of Israel's finest classical musicians, as well as some of her fellow students at Juilliard. Yehudi Menuhin, Midori, pianists Bella Davidovich, Leon Fleisher, Richard Goode, Mstislav Rostropovitch, Isaac Stern and Rosalyn Tureck came by word of mouth, hearing about Tatz and his intuitive sense of the inner life of a classical musician. When Vainberg received a scholarship from Israel to study at Juilliard in New York City, the Tatzes packed their bags and in 1984 headed west.
Arriving in New York, Tatz had a difficult time reestablishing his practice. He had much experience and knowledge, but no license. One of Tatz's friends suggested that he establish his practice as an unlicensed (he has since become licensed in New York) "body tuner." Tatz continues, "Alexander did it, Feldenkrais did it, so I figured, why not me? So let's make a name that sounds more musical-how 'bout, 'Body Tuning®'? Now that's geshmack," he laughs. Two of Tatz's patients, Isaac Stern and James D. Wolfensohn, president of the World Bank and then chairman of Carnegie Hall, got him an office there. Twenty years later, Tatz continues to practice his body tuning in this same studio.
"Some people say I have a gift. I only know that I put my life energy into my work and I truly want to help. When somebody puts their hands on you, you can tell if this person wants to help or they are using their hands as if this was just their job." There is a Jewish saying: "Those who bless, too, shall be blessed." And after visiting Shmuel Tatz, they feel that they have been blessed with the divine touch.


By Leslie Russel