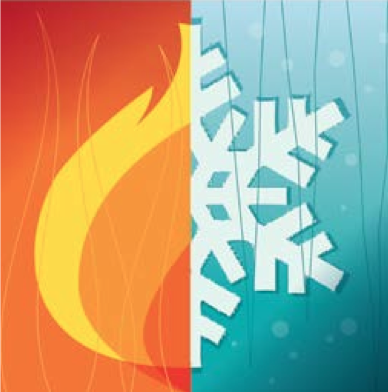 Do you know when to use heat or cold therapy for an injury? If not, a recent review article by two University of Washington sports doctors, Matthew Karl, MD, and Stanley Herring, MD, can be your guide.
Drs. Karl and Herring point out that the application of superficial heat to your body can improve the flexibility of your tendons and ligaments, reduce muscle spasms, alleviate pain, elevate blood flow and boost metabolism. The mechanism by which heat relieves pain is not exactly known, although researchers believe that heat inactivates nerve fibers, which can force muscles into irritating spasms, and that heat may induce the release of endorphins, powerful opiate-like chemicals that block pain transmission.
Increased blood flow occurs in heated parts of the body because heat tends to relax the walls of blood vessels. That's one reason why sports doctors recommend you steer clear of the practice of heating up already inflamed joints. Heat appears to be best for untightening muscles and increasing overall flexibility; the proper tissue temperature for vigorous heating is probably 104 to 113 degrees Fahrenheit (40 to 45 degrees Celsius) and the correct duration of temperature elevation is about five to 30 minutes. Although heating can reduce muscle spasms after a back injury, heat should not be used on sprained ankles.