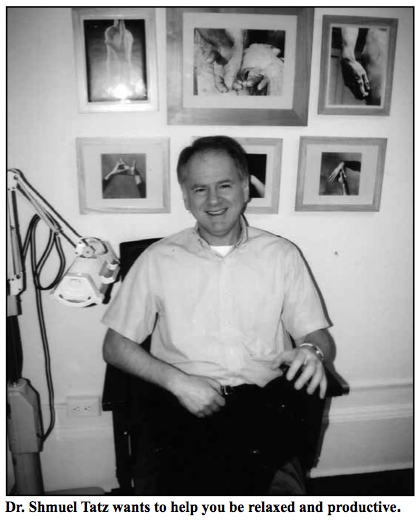 BOOK REVIEW
Healer of Hands
New book by Dr. Shmuel Tatz helps musicians save their most important asset – their bodies
by Sheila Weinstein
If you're a musician and also a computer user – and that describes almost all of us – then there's a new book that you must read: "Hands on a Keyboard: a Guide for Musicians and Computer Users," by Shmuel Tatz, PT, Ph.D., and Vladimir Mayoroff, M.D.
Both musicians and computer users can develop painful symptoms that prevent them from doing the things they love to do and have to do.
Your hands, arms, shoulders, neck and back can only endure a certain amount of physical stress before they break down. Musicians who can't play and writers who cannot write are unhappy people.
But "Hands on a Keyboard" goes beyond giving the reader information about how to keep our hands healthy. It shows the importance of keeping the entire body fit while pursuing the work we love to do.
The chapters include topics such as:
How to set up our computer space
How to do relaxing exercises while at our desks
How our tendons and muscles work
Correct positioning of hands at the piano
The pitfalls of playing stringed instruments
The importance of keeping the body relaxed
A discussion of hand injuries
The value of the proper kind of exercise to prevent and help heal.
One of the final chapters deals with the supreme importance and value of learning self-massage to ease muscle tension of the hands and arms.
Most every chapter has beautiful and clear illustrations that make it easy to follow the authors' suggestions.
The lead author, Dr. Shmuel Tatz, is a nationally-renowned physical therapist who has worked with clients such as Lou Reed, Isaac Stern, Mstislav Rostropovich, Tommy Tune, Kathleen Turner and people in almost every circumstance of life. Dr. Tatz practices physical therapy in New York City.
His co-author, Dr. Vladimir Mayoroff, lives in Lithuania and is a physician, pianist and long-time teacher whose vast experience and medical background have enabled him to discover significant reasons for the disorders in the hands of professional musicians.
Dr. Tatz and Dr. Mayoroff have created an easy-to-read book filled with valuable and useful information for keyboard users to help them improve their productivity and general health, and – most of all – avoid the possibility of injury from stress and over-use of their hands.
"Hands on a Keyboard" is a book to be read, re-read and kept next to the piano or computer for constant referral.
It will help keep our hands and bodies moving in the right direction while eliminating problems that would eventually lead to pain and compromised ability to perform at our best.
This book is a gift for anyone who uses a keyboard.
For more information or to purchase, please visit NYPhysicalTherapist.com.
All proceeds go to the nonprofit Healthy Hands Foundation, Inc.

Sheila Weinstein is a pianist and author.